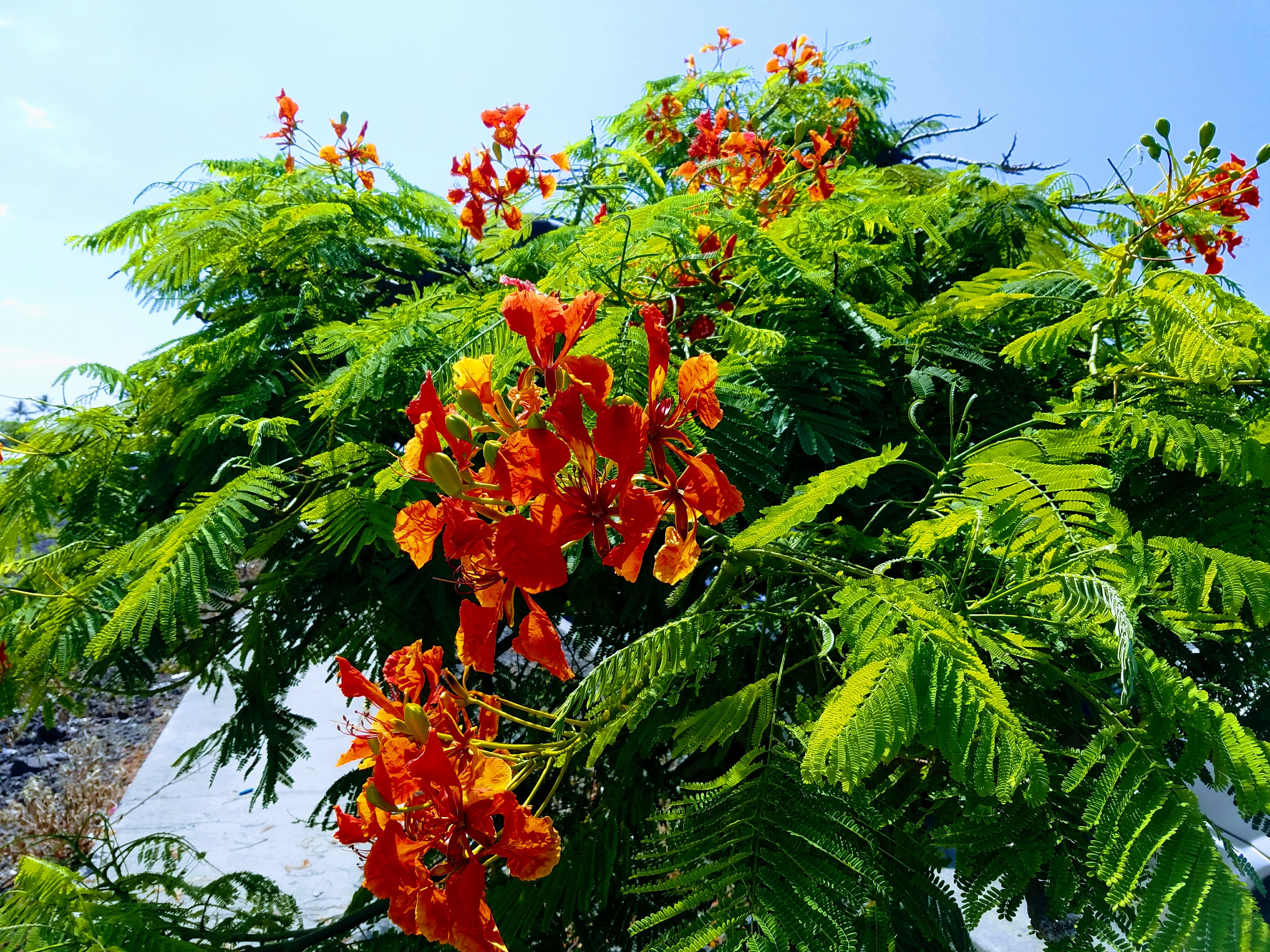 All over Hawai'i island, the royal poinciana is putting on a blazing display of red and orange. Even on the east side of the island, we can witness the royal poinciana in full bloom right now. The scientific name Delonix regia brings together delos and onux, the Greek words for "conspicuous" and "claw" – referring to the long, curved petals – with regia, meaning royal, regal or magnificent. And true to its name, this tree is hard to miss when in flower!
Sometimes called 'the flame of the forest' due to its brilliant color, the royal poinciana was imported to Hawaiʻi by the great botanist Dr. Hillebrand in 1855. Loose clusters of 5-petaled flowers grow from the ends of the branches, varied in color from scarlet to orange to yellow. While four of the petals are similar in shape and color, the 5th petal is usually longer with mottled color and a gentle taper, creating a pleasing aesthetic. The leaves have the soft, feathery appearance characteristic of plants in the family Fabaceae. The large umbrella silhouette and nearly horizontal branches growing off the stout trunk create a visually attractive shape that adds to its allure, making the royal poinciana a widely cultivated species throughout the tropics. Seeds come from long flattened pods, green at first before turning reddish-brown in color when ripe – adding even more color!
The pods can persist on the tree for more than a season. If you come across some royal poinciana seed pods, inside you will find the seeds are arranged at right angles. Scarify seeds or soak them in hot water to germinate, but keep in mind that old seeds are much harder to germinate. It takes can as little as two weeks days or as long as several months for the seeds to germinate, so patience is necessary! Air layering is a faster way to grow the royal poinciana and may be a better choice. It will be about six years after germination before you begin to enjoy your first beautiful blooms.
Planning your planting is a key step: the royal poinciana demands a lot of space! It is best grown in parks or very large backyards where there is ample room to grow under full sun. In return, the royal poinciana will provide shade and a striking appearance. Like other members of the pea family, it is a nitrogen-fixer and is fast growing and drought tolerant once established.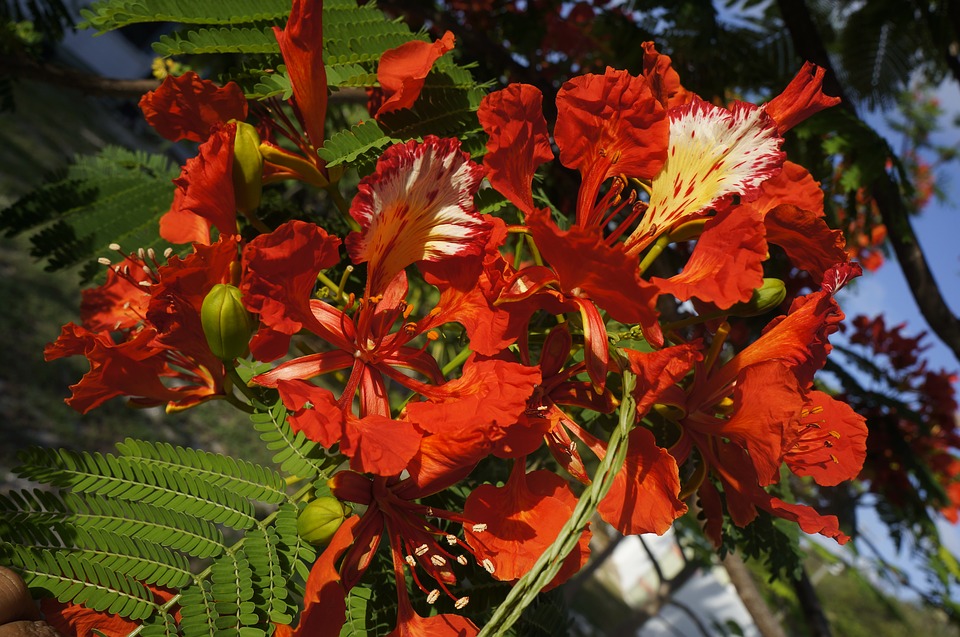 A few caveats: this semi-deciduous tree may drop its leaves once a year. The litter is allelopathic, meaning it produces chemicals that will halt the growth of other plants. Some maintenance is required to clean up when the leaves, flowers, and seed pods fall to the ground. The strong root systems can damage asphalt and sidewalks, so placement should be considered carefully to avoid future headaches. One thing you won't have to worry about is harm to our island environment: the royal poinciana is non-invasive, so you can be confident that this tree won't negatively impact our forests. When planted thoughtfully and in the right space, this gorgeous pono tree will bring years of enjoyment in your tropical landscape!
The royal poinciana is also useful in other ways: the seeds can be strung into lei or jewelry, and the wood is great for wood-working. The magnificence of royal poinciana is captured in the song by Nat Simon and Buddy Bernier Poinciana (Song of the Trees).
     Poinciana, though skies may turn from blue to gray, My love will live forever and a day