In 2013, the introduced grass Barbas de Indio (Andropogon bicornis) was found naturalizing near Lava Tree State Park outside Pahoa, Hawaii. It grew in an area cleared for utility lines through mixed native/non-native 'ōhi'a. Likely, the plant had been established for some time, but amidst the many other introduced grasses in the Hawaiian landscape, it took a botanist with a keen eye to identify it. A decade later, this tall grass species is much more noticeable, growing on the windward side of Hawaii island from Honomu to Puna, throughout Volcano, and down Ka'u as far as Ocean View.
Invasive species like Barbas de Indio can outcompete native vegetation, disrupt ecosystem functions, and negatively impact local biodiversity. Currently, there are three species of Andropogon present on Hawaii Island. The genus name is the Greek words aner (from andr-, man) and pogon (beard). Many people commonly call these species 'beard grasses' or 'broom sedges'. Andropogon glomeratus, commonly called bushy blue stem, occupies the same habitats as Barbas de Indio. However, it is only found on Hawaii Island and Oahu. Andropogon virginicus, commonly called broomsedge, is present and widespread on all the main Hawaiian Islands. All three species of grass look similar, but Barbas de Indio can grow to be twice as tall as the others, up to 8 feet in height.
A noxious weed here in Hawaii, Barbas de Indio is important in its native range of tropical and subtropical America, where it evolved with other species that keep it in check. Although most invasive plants in Hawaii arrived as intentional introductions, A. bicornis is suspected to have been an accidental introduction, possibly due to contaminated tools or gear. Most of our grasses were imported for cattle forage, but Barbas de Indio is practically useless, having little to no nutritional value. It forms dense stands in pastures that shade out desirable forage. Unfortunately, it has many of the standard characteristics of a tenacious invader: it is wind-pollinated, self-compatible, and a prolific seeder.
Barbas de Indio may also offer an even more serious threat: it is one of the many invasive grasses in Hawaii that provide fuel for wildfire. The ability of invasive grasses like Andropogon bicornis to promote fire is a significant concern, as it alters the natural fire regime and increases fire frequency and intensity. Recognizing this species and keeping it cut back and controlled near dwellings is important to reduce the risks of wildfire.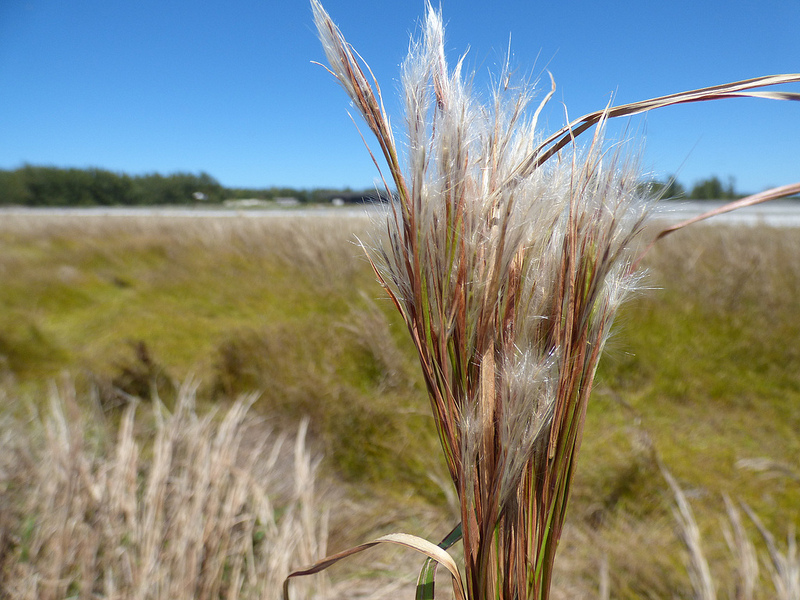 Andropogon glomeratus – fluffy inflorescences (flowers), grows in pastures about 2 to 4 ft tall. Leaves have a reddish tint. Not drought tolerant. To date, it hasn't been found on the windward side. Fire Risk: This plant has an extreme flammability rating.
Andropogon virginicus – More slender and vase-shaped. Inflorescences are thin and less bushy (spindly). Old leaves are straw-colored. This species grows island-wide. It grows to about 3 feet.
Andropogon bicornis– grows taller than the other two species, up to 8 ft tall. Grows in clumps. Large inflorescence with a disjointed rachis. Bushy, tan-colored flowers. Bicornis means 2 horns.
Management:
Prevention is best. Keep open pastures and secondary roads from Andropogon sp infestations. Ensure all tires, tools, pets, and ungulates are seeds-free. Mechanical removal is the next best way to fight this genus back. It is recommended to mow before seeds mature. Grazing animals on fresh new green growth is somewhat effective. Herbicide control is not very effective, especially on old leaves. If herbicide is used, apply it to actively growing leaves. Using glyphosate, apply foliar spray to all parts of the plant.
Look Alike:
Recently, BIISC received reports of Pampas grass (Cortaderia sp), a species that was eradicated several years ago on Hawaii Island, but what reporters were actually finding was Barbas de Indio. The two species look similar with their clumping habit and fluffy plumes. If you are in doubt, please take some pictures of the base of the clump as well as the head of the grass and send them to BIISC (biisc@hawaii.edu) for identification. Any suspected pampas grass should be reported right away.

Looking at the side by side, it's apparent that (L) is Pampas grass and (R) is A. bicornis. Pampas flowers are very fluffy, cream-colored, and showy. And it grows up to 10 feet tall and 6 feet wide. The clumps tend to be a V-shape.  A. bicornis flowers are messy, tan-colored, and the patches are more rounded.

When Pampas grass leaves die, they tend to curl up. The leaves are saw-like, wider, and greener than the Andropogon species present on Hawaii Island.