Family: Solanaceae
An invasive horticultural shrub that aggressively invades disturbed and native forests. Cestrum nocturnum, commonly called night blooming jasmine, is native to Central America and the West Indies. According to Dr. Hillebrand (the amazing botanist), it has been cultivated in Hawai'i since at least 1871. It escaped cultivation and is established on all the main Hawaiian Islands. Night blooming jasmine is very hard to control in a landscape once established.
This plant has been observed dominating the understory in native koa forests, preventing new koa seedlings from establishing.
Birds, attracted to the white pea-sized fruit, eat the fruit which contains viable seeds. The birds then fly away and excrete the seed, which survived passage through their gut. All it takes is one seed. This shade-tolerant and self-compatible plant can grow into a thicket out-competing a diverse array of native plants.
The Division of Forestry and Wildlife of the Hawaiʻi Department of Land and Natural Resources has designated this species as one of Hawaiʻi's Most Invasive Horticultural Plants. Night blooming jasmine is a 'no grow' species for the Big Island Invasive Species Committee (BIISC) Plant Pono program.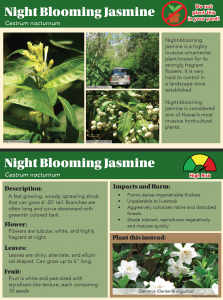 Description and Dispersal:
An evergreen sprawling shrub that emits a strong odor at night

Simple green leaves with entire margins and alternately arranged

Greenish-white tubular flowers

White fruit is 8 to 10 mm in diameter

Grows up to 20 feet tall

Seeds are spread birds, water and humans