Family: Proteaceae
Silk oak (Grevillea robusta) is a large invasive tree. The common name is confusing; it is not in the oak family. Native to  Australia, it was imported to Hawaii in 1851. Over a fifty-year period, 2.1 million silk oak trees were planted for forestry. Because it has broad climate adaptability, it has naturalized wherever it was planted. Today it is one of hawaiis most invasive horticultural plants.
Leaves and seeds drop in mass, creating a thick layer of debris. Strong roots lift and damage sidewalks, streets, and foundations. Brittle limbs are a hazard.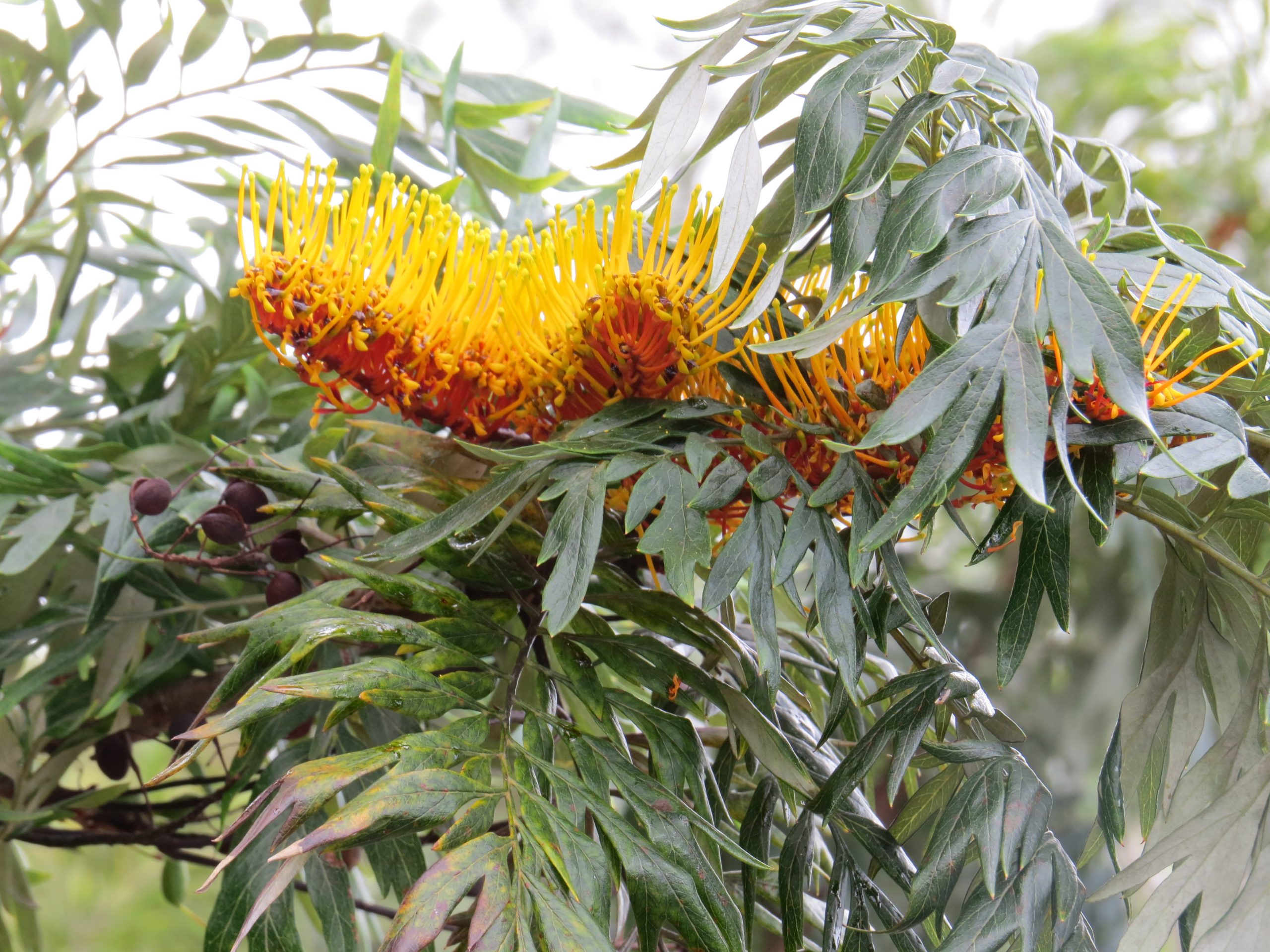 Description and Dispersal:
A large tree, reaching a height of 75 feet or more

Canopy has a pyramidal shape and a 25 for spread.

Horizontal limbs and a thick trunk.

Fern-like green leaves are divided into many lobes.

Produces large clusters of brilliant yellow flowers.

Black, leathery seed capsules follow the flowers.
High Risk Traits:
Elevation range exceeds 1000 m, demonstrating environmental versatility

Grows in tropical climates

Naturalized in the Hawaiian Islands and several other locations worldwide

Potential pasture weed

Environmental weed

Grevillea banksii also invasive

Allelopathic

Allergenic sawdust and pollen

Tolerates many soil types

Capable of forming dense stands

Reproduces by seed

Seeds dispersed by wind, water and intentionally by people

Prolific seed production (densities unknown)

Able to coppice and resprout after cutting
Low Risk Traits:
Unarmed (no spines, thorns, or burrs)

Palatable to goats and used as a livestock fodder

Ornamental

Light-demanding (Shade-intolerant)

Not reported to spread vegetatively

Self-incompatible

Reaches maturity in 6+ years

Herbicides may provide effective control