Many consider holly to be a Christmastime favorite. However, the tree associated with the holiday season's cheer is nothing but bad tidings for native ecosystems. In Hawai'i, holly is invasive. The Hakalau Forest National Wildlife Refuge, one of the most pristine and healthy native ecosystems in the state, is being invaded by this old-world import.
Description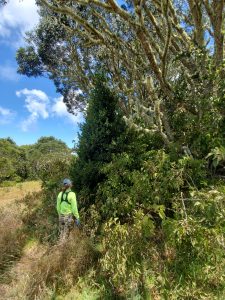 It is no wonder why humans imported holly to Hawaii in the first place. Bearing thick, glossy leaves, holly (Ilex aquifolium) is shaped like the perfect Christmas tree. The bright red drupes (berry-like fruit) stand out among the dark green foliage. But however attractive they may look in a festive tableau, in a wild, non-native environment, they begin to lose their appeal!  Each pyramid-like, conical tree can grow as much as 50 feet tall, with densely packed branches that can spread 15 feet across, sprouting leaves with sharply pointed teeth. This makes for impassable stands of trees, shading out any keiki of native species. Even worse, holly berries are attractive to birds, making it easier for the tree to spread silently into native forest areas. 
Botanical History
Originating in Europe, Northern Africa, and Western Asia, holly has a rich history dating back 2,000 years. In its native range, this evergreen tree is one of the few leafy plants that keep its color year-round. Holly is a sight to behold when other trees lose their leaves, and the landscape is barren or blanketed in white snow. Over the millennia, holly has been a symbol of the new year, love, protection, and the longer days ahead.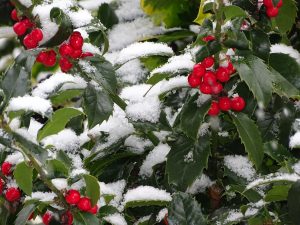 The Genus name, Ilex, is derived from the Celtic word for 'point' in reference to the leaves. Ancient Druids believed holly to be sacred because 'the sun never deserted the holly tree.' It was the only tree in those regions that kept its foliage when everything died back for the winter. A symbol of eternity, fertility, and spiritual protection, people in Europe planted holly near their homes. Cutting down the whole tree was considered terrible luck, but cutting branches to decorate the household was seen as good fortune and protection. The Ancient Romans also held this belief.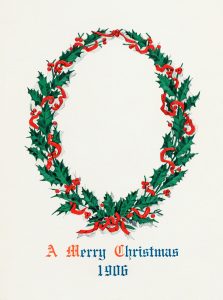 Boughs of holly were gathered and freely given during the Roman holiday Saturnalia. Much like makahiki, this was a peaceful time to relax and celebrate the longer days ahead. 
As European Christians adopted pagan customs, holly became symbolic of the Christian faith. The plant was a representation of Jesus-prickly leaves to represent his crown, the berries his blood. The common name, holly, is even derived from the word "holy."
Eventually, it became an emblem of Christmas. Traditional holiday carols like 'Deck the Halls with boughs of Holly' and newer songs like 'Have a Holly Jolly Christmas' attest to the Christmas connection.
Farmers and ranchers even decorated cattle pens with holly boughs on Christmas day, superstitiously believing the cows would produce more milk in the coming year. Perhaps this belief explains why ranching families imported holly to Hawaii. 
Introduction to Hawaii
Holly is symbolic and lucky in its native range – the right plant in the right place. Here in Hawaii, holly is bad luck for the native forest – the wrong plant in the wrong place.
In 1985, the Hakalau Forest National Wildlife Refuge was established as a critical habitat to preserve 27 endangered bird and plant species. Before the establishment of the refuge, the forest was grazed by cattle and used for logging. Pigs and cattle caused considerable damage to the native understory, paving the way for invasive species to colonize the area and replace the diverse array of endemic Hawaiian plants.
At some point during the ranching period, someone planted holly outside their home, and then it started to spread into the forest. Like the remnants of ranching that still litter the refuge, Holly is a foul testament to how humans play a part in altering landscapes. 
Invasive Characteristics of Holly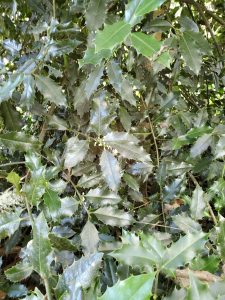 Holly produces copious amounts of seeds, with up to 120,000 in a single year. Both native and non-native birds are attracted to their bright red fruits and disperse the seeds into previously uninvaded areas. Holly seeds can lay dormant in the soil for at least five years and remain viable.
Not only does holly grow in disturbed areas like abandoned pastures, but it also thrives in shady conditions within closed-canopy forests. The understory of a holly tree is so dark that other plants cannot germinate or survive. Holly successfully outcompetes native plants by taking over space and stealing nearby nutrients. 
While holly grows from seed, it can also grow vegetatively. When cut, the tree will coppice from the stump. Low hanging branches can root into the ground and grow into a new tree. A broken piece that comes into contact with the ground or leaf litter can grow into a separate holly tree. 
Holly causes problems in many areas where it has been introduced. Upcountry Maui, Washington, Oregon, California, and British Columbia are all places where holly has negatively affected native ecosystems. 
Control Techniques 
On Hawaiʻi Island, invasive holly is spreading in the Hakalau Forest National Wildlife Refuge. In 2010, Hakalau managers identified it as "a highest priority target invasive plant species." With help from the Big Island Invasive Species Committee, the refuge is actively working to eradicate this plant. While it is challenging, it is possible to control these plants.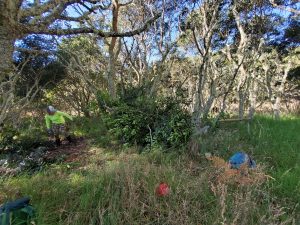 For big trees, access to the trunk is difficult. The lower branches form a curtain of prickly foliage, firmly rooted in the ground and attached to the main stem. First, the lower limbs are cut, and to prevent new growth, they are uprooted manually. Next, forest technicians kneel on the thick carpet of sharp leaves and fell the tree with a machete or a handsaw. The stump is then treated with a small application of herbicide to prevent coppicing. BIISC technicians uproot small trees whenever possible, and all vegetation is hung off the ground or straddled between other trees to prevent vegetative regrowth. 
While the process often leaves technicians with cuts and scratches all over their bodies,  they assure us that meaningful work like this is worth every scratch! 
Alternative, Pono choices
There is no denying the deep connection that some cultures and religions have with holly; it's a lovely story rich with historical significance. But it is not always a good idea to transport all traditions – with corresponding goods – to new places. The story of invasive species worldwide is one of well-meaning introductions gone bad, and holly is part of that story. 
A hundred years ago, invasion by plants was an unknown phenomenon. We can't blame the individual who brought holly to Hawaiʻi without the understanding we have now – we can only work to repair the damage and commit to not repeating the same mistakes as we move forward.  
Today there is no excuse for the intentional introduction of potentially damaging species. We now have the tools to accurately predict if a non-native plant will be invasive! Although Hawaiʻi still lacks legal restrictions on importing invasive plants, the Hawaii Pacific Weed Risk Assessment vets plant species objectively and can be easily accessed through a public website, PlantPono.org. The website suggests suitable planting choices that meet the needs of island residents without harming the ʻāina.  
Prevention is the most effective and easiest way to fight invasive species. All residents of Hawaiʻi can agree that protecting our forests, farms, and shores is something we can celebrate!