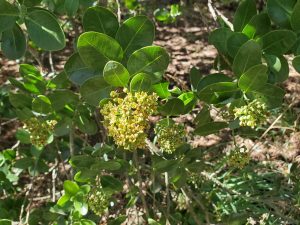 Driving along the road high up on the slopes of Mauna Kea, Mark Hansen suddenly stops the truck,  exclaiming, 'Look at that sandalwood tree!! The Sierra Club volunteers planted this four years ago. It's so healthy! How did I miss it until now?" The gorgeous sandalwood, or 'iliahi, hiding inside a clump of māmane (Sophora chrysophylla), had finally grown big enough to top the canopy and be visible. 
Hansen, known as the Sandalwood Man, has been seed collecting, growing, and planting sandalwood (Santalum sp.), since the 1990s. His nonprofit Hawaiian Reforestation Program estimates 250,000 trees have been sown since inception. His current focus, reforesting Mauna Kea began once portions were fenced in 2013. After an extensive survey, he collected sandalwood seeds, then germinated them to outplant in the same area.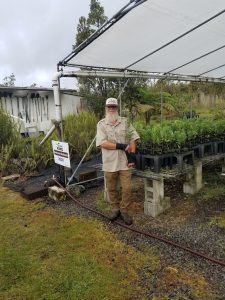 It may seem that with a quarter of a million trees planted, his excitement over the single tree we've stumbled upon is excessive, but his efforts weren't always successful. Of the first 600 seedlings he planted, only five survived! Frustrated, Mark built a nursery at his Big Island home to ensure a strong beginning for each tree. Although his home in Mountain View is not within the usual habitat of 'iliahi, the rainy area turned out to be perfect for germination. These days, thousands of beautiful keiki trees come to life under the shade cloth in his backyard, all neatly lined up in accelerator pots and dibble tubes.
Over the years, with more experience, he also learned what worked best to ensure the survival of his outplanted seedlings. As we carry our dibble tubes and digging tools under a beautiful blue December sky, Mark instructs me to plant my seedlings close to the māmane clumps which can provide moisture and protection from harsh conditions. He will return later to weed and fertilize these new growths, ensuring they get enough of an edge to survive the aggressive grasses that surround us.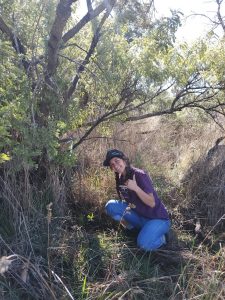 The most critical ingredient for the success of Mark's program isn't water or nutrients, though: it's volunteers. Mark relies on charitable donations and volunteer effort to bring the forest back to this part of Mauna Kea. He gets help from many groups like the Sierra Club, including students from the Forest TEAM program at Hawai'i Community College and even young kids: his first volunteer sandalwood outplanting was in 2014 with a local Girl Scout troop. He points out those outplantings to me, now strong healthy trees topping six feet.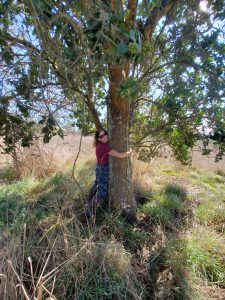 Mark's passion for the native forest, flute playing, and deep sandalwood knowledge have created something of a legendary character. People are drawn from all over the state to work alongside the Sandalwood Man, and his field trips do not disappoint. He might take you to the 'hugging tree,' a 40-foot tall old-growth remnant sandalwood that survived decades of unfettered grazing and massive harvesting of native sandalwood. Marc is a storyteller, entertaining companions with tales of his planting adventures and sharing the vision that led him here. Including the story of how early in his sandalwood journey, intending to plant on the slopes of Haleakalā, he was granted permission to collect seeds from Polipoli State Forest on Maui. Sadly, only two seeds were found. But Mark's son encouraged his Dad to not to give up, and so they made their way to the first sandalwood Mark had ever seen. Seeds were falling off the tree like rain! Mark took this as a sign that he should pursue his vision, and since then his program has developed to grow sandalwood on a massive scale in a way that had not been attempted before.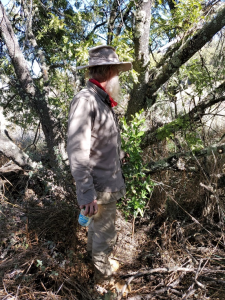 Mark diversified his native plant growing over the years, in part to support his 'iliahi. Sandalwoods are semi-parasitic. Drawing nutrients from neighboring plants, sandalwood thrives best in a synergetic relationship with other native trees. Koa, a nitrogen fixer, is the best tree to partner with sandalwood. ʻAkoko (Euphorbia sp), 'a'ali'i (Dodonaea viscosa), ko'oko'olau (Bidens sp.) are other good partner plants. Surprisingly, Mark's favorite native species is not iliahi, but the less flashy 'ohe makai (Polyscias sandwicensis). Mark fondly describes it as a rock buster. He gushes, "the roots of 'ohe makai grow on bare rock, slowly they penetrate and break up the rock in search of nutrients and moisture. This species survives where other plants perish. 'Ohe makai is so rare and beautiful!"
Most mornings at his Mountain View home, Mark dines on roasted sandalwood nuts and coffee. He hopes that one day, Hawai'i will have a value-added, sustainable industry from pressed sandalwood nuts. The oil, used for all kinds of skin ailments, fetches a high price. There is potential….if enough trees are planted. But after more than a decade of work, Mark Hanson has lost none of his passion for the project. The Sandalwood Man plans to be out there, gently placing new saplings into the ground, for years to come. 
For dryland native plants and forestry projects, contact him at 808-769-0683 or 1sandalwoodman@gmail.com.