A menace for Hawai'i:
A newly established weed promises to add even more burden to gardeners and plant lovers. Hairy crabweed (Fatoua villosa) was recently found invading a Hilo garden. Just a few weeks after planting a locally purchased Samoan gardenia, an unsuspecting gardener found hairy crabweed had suddenly overrun the garden! Work quickly began by pulling out the weeds to restore the garden. In the process, we learned about Hilo's newest invasive species.  
The Hilo garden was not the only instance of this South Asian native turning up in Hawaii. The herbarium at Bishop Museum documented two reports of local naturalization in Oahu. Both Foster Botanical Garden and Lyon Arboretum were unpleasantly surprised by this nursery contaminant (they both successfully eradicated the populations). Like the Hilo population, the elusive plant likely hitchhiked via potted plants into the botanical gardens. A small, annual herb, hairy crabweed is easy to overlook. It has a long history of growing unnoticed, only to be discovered after it is thoroughly established. 
History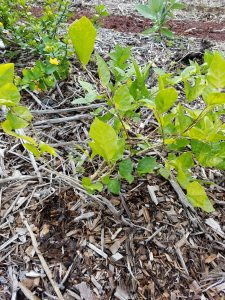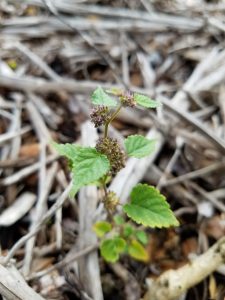 This is what happened in one of the earlier invasions of F. villosa in North America. The winter of 1962/1963 was particularly harsh in Louisiana. Many plants died when temperatures dropped to 15 degrees F. Suddenly conspicuous against the barren landscape, the exotic species F. villosa was noticed. The population had been expanding and thriving, growing overlooked around New Orleans for at least fifteen years. Helped along by regular fertilizer and irrigation, hairy crabweed outcompeted the frozen flower beds and shrubs of Southwestern Louisiana, forming mats of green that were impossible to overlook.
Fatoua villosa likely arrived in Louisiana as it did in Hilo and Oahu, as a small weed on imported live plants. It is a persistent pest in horticulture, traveling from Louisiana to Michigan, North Carolina to California, Washington State to New England, and now from Puerto Rico to Hawai'i. It thrives in areas with regular water: greenhouses, nurseries, gardens, any place with regular irrigation. This makes it a threat to shady wet forests and wetland areas where it can easily jump into the natural environment and rapidly spread. 
Spread
Once established, hairy crabweed spreads across the landscape in a variety of ways. Seeds explode off the parent plant, flying up to four feet away. Like other problematic hitchhikers (i.e., little fire ants), hairy crabweed travels long distances by blending in and being small. The minute seed size allows them to taint seed packets, mulch, soil, muddy tools, and potted plants. The tiny size also allows them to be carried on the wind, and they can be eaten and spread by birds. Easy dispersibility makes hairy crabweed a dangerous invasive species. 
Reproduction
Its fertility rates are off the charts. In a single year, hairy crabweed goes through five generations! It reaches reproductive maturity in as little as twelve days or as soon as two true leaves emerge. Some joke that hairy crabweed is born pregnant; it is no laughing matter when a plant produces so many seeds in a short amount of time. All it takes is one seed; hairy crabweed doesn't need another plant to cross-pollinate. Furthermore, the seeds lay dormant yet viable for years, waiting for the optimal conditions to germinate. A dense carpet of hairy crabweed can emerge before you realize it, leaving little room for more desirable plants. 
Prevention
Despite its advantages, botanical invasion by F. villosa is not inevitable! Careful gardeners already know to carefully inspect all incoming potted plants, and destroy any unwanted weeds as soon as they emerge. Good sanitation, clearing of tools and containers, and familiarity with potential pests to watch out for will help prevent invasion by unwanted species.  Should one of these sneaky pests spring up in your garden, a quick response can eliminate the plant – and future headaches. For cultural control, place a thick, three-inch layer of mulch in irrigated areas. Limit water in infested areas to dry them out, and hand pull the clumps out of the ground. For particularly tough infestations, use herbicides to ensure control. 
Hairy crabweed scored high risk on the Hawaii-Pacific Weed Risk Assessment. The keywords associated with the assessment are annual herb, nursery weed, shade-tolerant, contaminant, ballistic dispersal, similar to keywords for other well-known potted plant weeds.  Such a highly effective invasive weed that has no place in Hawaii. Let's join together and nip this problem in the bud before it's as common as Oxalis or Pilea microphylla in our potted plants. Prevention is preferable; early detection and vigilance is the crucial next step to stop this weed before it spreads. 
The Big Island Invasive Species Committee has successfully eradicated this weed from the Hilo garden by removing the weeds. Monitoring continues to ensure new plants don't germinate. 
Call your local invasive species committee if you find this plant!