Jean-Jacques Rousseau once said, "The first man who, having fenced in a piece of land, said 'This is mine,' and found people naïve enough to believe him, that man was the true founder of civil society." For better or for worse, fencing has shaped cultures around the world. Fences regulate our movements within the world by separating, protecting, and shielding. Living fencing is a sustainable alternative to man-made fences, especially when its main purpose is boundary delineation. George Washington may be the first American who planted a living fence. Because a fence constructed of man-made materials would have impaired the founding father's view, living fences were incorporated instead to separate his working farm from his pleasure gardens.
When deciding if a living fence is right for your property, there is a lot to consider. Done well, a well-planned living fence can be a multi-use system yielding food, beauty, wood, green mulch, fodder, medicine, wildlife habitat, and windbreaks all while providing privacy, boundary definition, and security. At worst, however, they can become a burden or even lead to a costly lawsuit! Beware of choosing plants for your living fence that can "walk away" onto a neighbor's property or into conservation areas.
There are two common ways vegetation can be incorporated into a living fence. The first and easiest is to use a living tree as a fence post. Why cut down perfectly good trees to use as posts, only to watch them slowly decay over the years? Incorporate them into your fence! Fastigiated trees (trees that grow straight with little branching) are a good choice for this method: Gliricidia sp, Panax, and Eucalyptus spp are popular choices in Hawaii. Place pressure-treated lumber as a barrier between the living post and the fencing materials. Otherwise, the hardware will be swallowed as the post grows. Use fencing staples instead of wrapping the wire around the living post to prevent the tree from becoming strangled by the wire.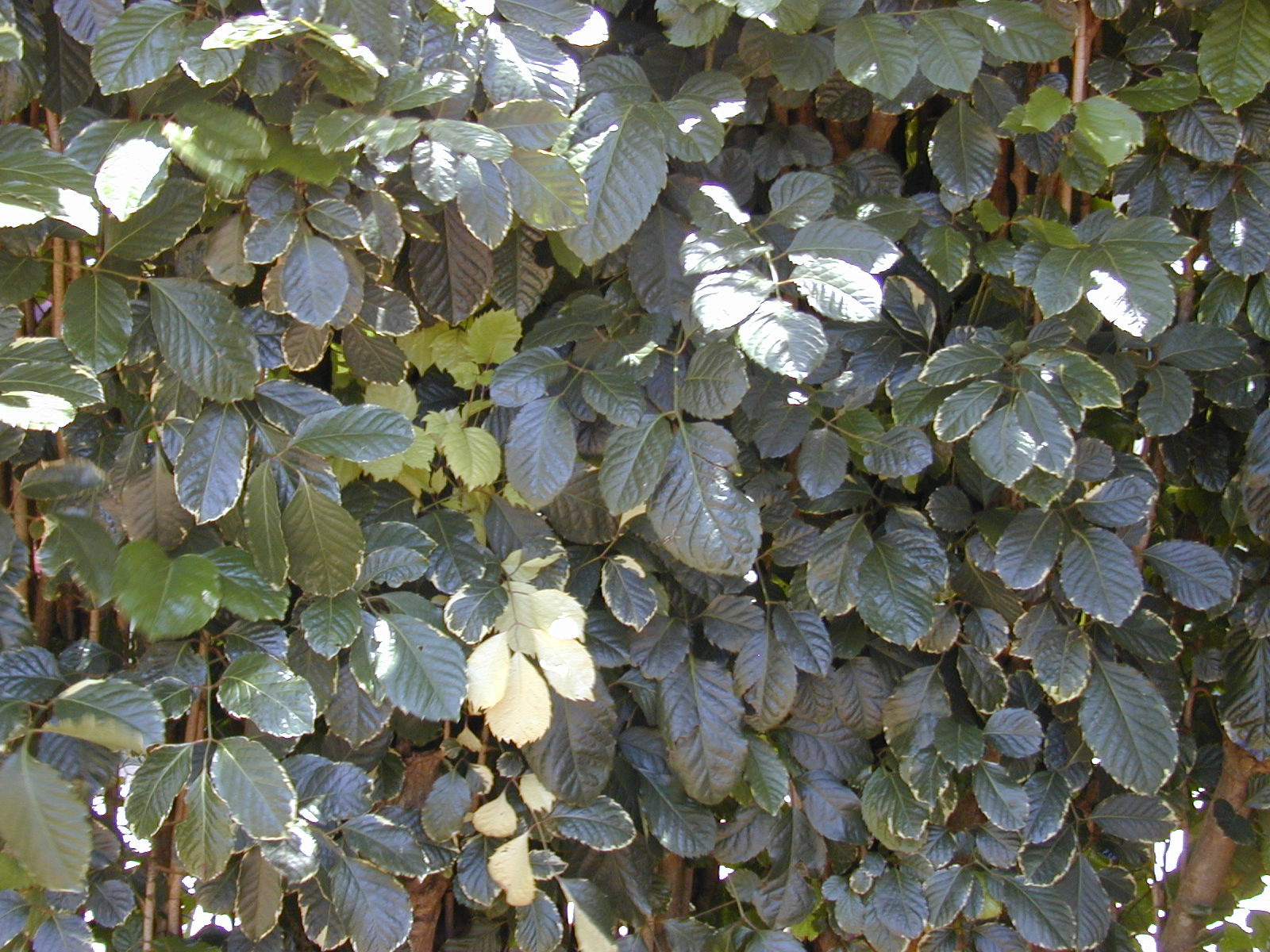 The second way is to create a hedgerow: labor-intensive at first, but if done right, the rewards will be reaped for generations. The hard work is in the site preparation and the maintenance needed while the fence establishes. For best results, you will want to plant very thick along the delineation line – as many as 450 stems per 100-foot stretch. Choose plants with desirable characteristics for this method, such as the ability to coppice, vegetative propagation, branching, and a long life span. Many other species of trees, bushes, and vines can be implemented in a hedgerow. Branches and vegetation can be woven together while growing to create a living wall.
While choosing one plant may seem the easiest route at first, having the same species of tree planted in rows can be problematic, especially if they originated from one genetic source. Insects and diseases may find it easy to jump from plant to plant. Many fences and even house posts were destroyed when the Erythrina Gall Wasp worked its way around Hawaii, destroying all the Erythrina variegate (tall wiliwili). Select multiple plants that complement each other to create an attractive fence that can stand up to environmental threats.
As you select your plants, keep in mind that our year-round tropical environment is perfect for fast, vigorous growth. They say "fences make good neighbors" however, some living fences make bad neighbors, especially when the living material is hazardous and fast spreading! Gorse is the prime example of a living fence gone bad in Hawai'i. It was imported to keep sheep corralled in its dense, thorny growth.  Unfortunately, it didn't work – both the sheep and the gorse escaped and ran wild across Mauna Kea, threatening the critical habitat of the last remaining population of Palila birds. Living fences should not be trusted to keep animals corralled, even with sharp thorns or prickles. 
Thorny plants are often chosen for living fencing and barriers for obvious reasons, even though it's nearly impossible to corral animals or keep trespassers out with vegetation alone. Pereskia aculata (Barbados gooseberry) was planted as a multi-use living fence, desirable for its beauty, sweet scent, and berries. Unfortunately, it escaped into Halawa Valley, ruining the natural area for people, plants, and animals. Now, after more than 10 years of intensive control work, Pereskia is almost eradicated from the Valley! The characteristics that made it appealing as a fence – readily rooting from any vegetative part, numerous hooks and barbs – also make it extremely difficult to get rid of. 
Running bamboo planted as a boundary marker is another example of a good intention gone wrong. As the name suggests, this plant is close to impossible to contain: the strong roots can push up sidewalks, damage pools, and encroach on neighboring property. Even some species of clumping bamboo can get a homeowner into trouble. For instance, the genus Guadua is non-invasive and won't creep away from its intended location, but it is covered in sharp thorns. Planted at a farm in Kona for security along a road, the bamboo became a dangerous nuisance for pedestrians. The property owners ended up spending tens of thousands of dollars to remove the pesky plant.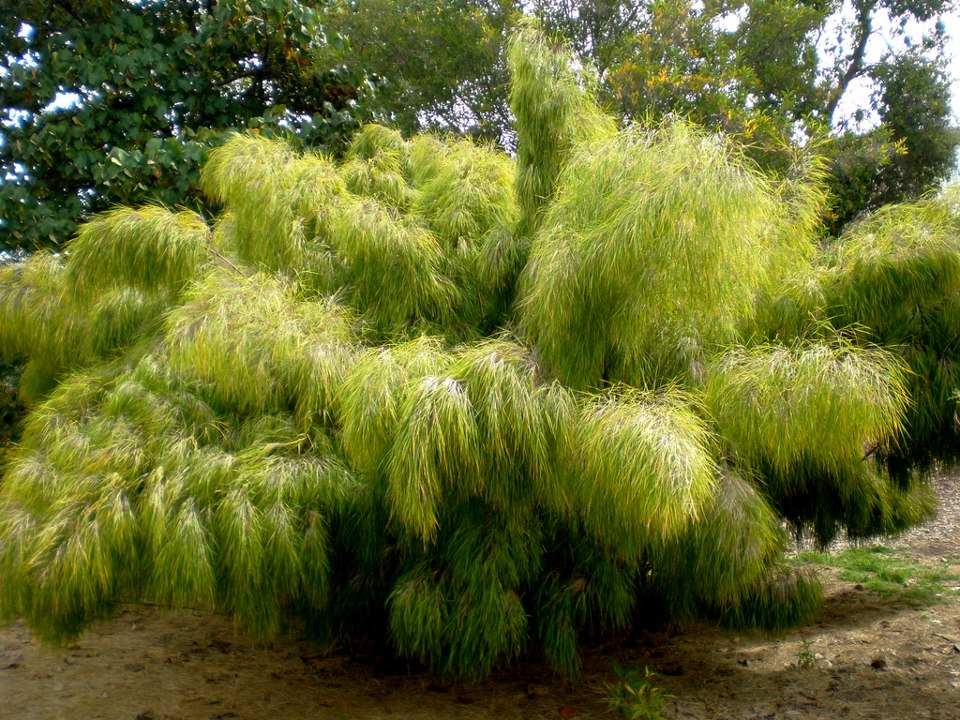 Thoughtful planting today can save a property owner from headaches and big bills in the future. A well-planned living fence can deter would-be thieves and provide the homestead with the added benefits of food, fiber, medicine, and beauty, encapsulating today's values of sustainability and appreciation of natural beauty. Just keep in mind that the wrong plants can do more damage than good. Use the Hawaii Pacific Weed Risk Assessment (HPWRA) to evaluate your choices – in keeping with those modern values, remember that it's not appropriate to plant invasive species anymore! With HPWRA, we have the tools to ensure your living fence will behave in the future.