Family: Arecaceae
An invasive palm that spreads in riparian areas. Native to Mexico, this fan palm can reach heights up to 100 feet. Commonly called Mexican fan palm, a tribute to the fan-shaped fronds and native range of this palm. The frond stems or petioles are sharply toothed; this is one way to decipher this palm from the native loulu palms.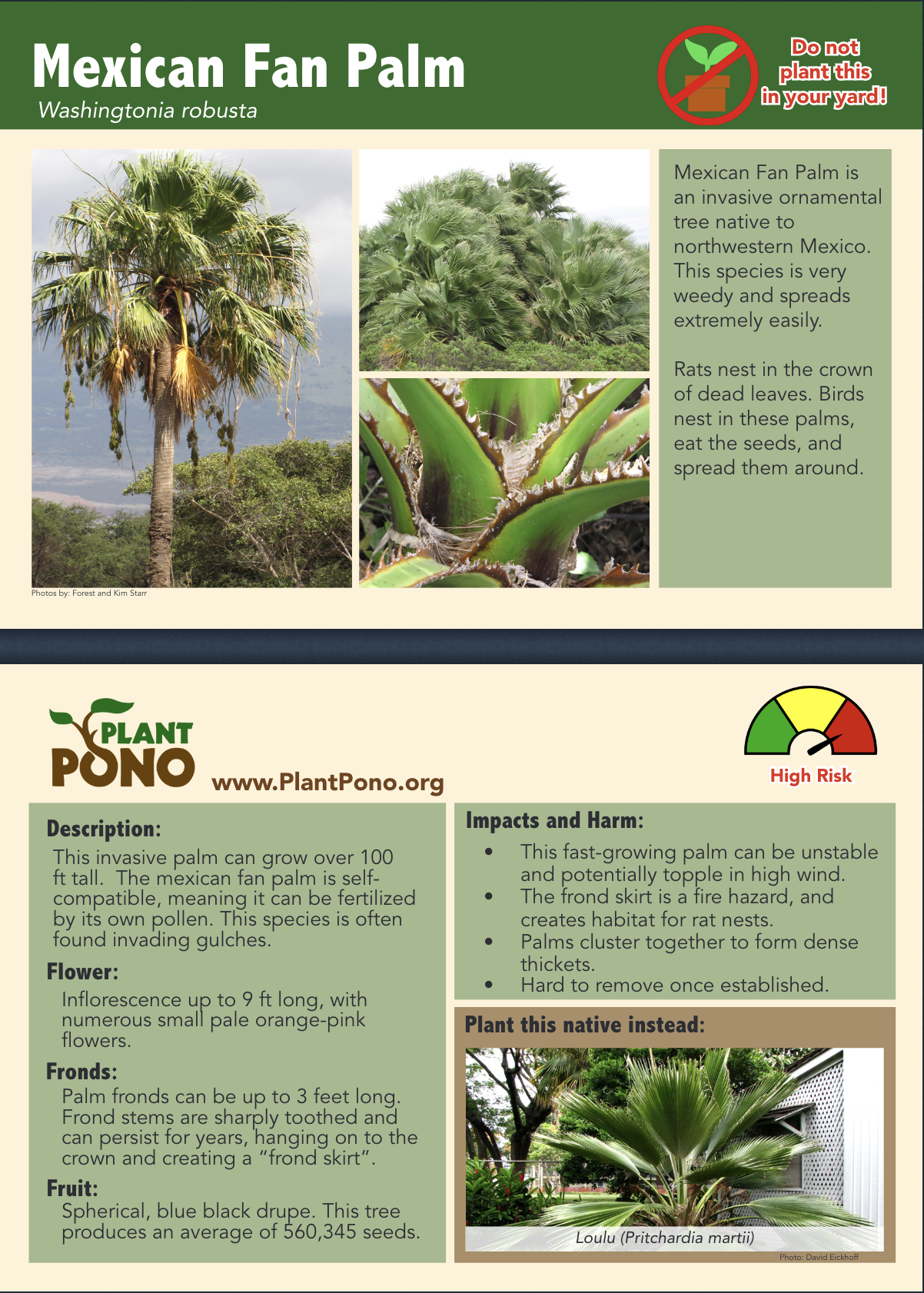 The fronds persist for years, hanging on to the crown long after their color turns green to brown. The 'frond skirt' or 'petticoat' is another tell-tale way to identify this tree. The skirt is a fire hazard and a rat habitat. Mexican fan palms sometimes snap in half due to the excess weight of the spent leaves! It is a fast-growing tree that is extremely difficult to remove. Waikoloa Tree Services, LLC on Hawaii Island used a crane to take out 8 trees! It was a massive endeavor that took many hands to complete.
Mexican fan palm is considered invasive in California, Florida, and Hawaiʻi. Mexican Fan Palm is a 'no grow' species for the Big Island Invasive Species Committee (BIISC) Plant Pono program.
Description and Dispersal:
A single trunked palm tree that can grow up to 100 feet

Has up to 30 fan shaped fronds

Dead fronds persist creating a petti coat or hula skirt

Frond petioles have sharp teeth

Inflorescence is up to 9 feet long containing small orange-pink flowers

Fruit is a small black drupe with a fleshy coat

Copious amounts of viable seeds are dispersed by birds and water
High Risk Traits:
Thrives in tropical climates

Naturalized in Hawaiian Islands (Oahu, Maui), Florida, Southern California, Auckland New Zealand

Regarded as a garden and landscaping weed

An environmental weed

Deer resistant (and probably unpalatable to other grazing animals)

Skirt of dead fronds a fire hazard

Shade-tolerant when young (allowing for establishment in shaded environments)

Tolerates many soil types

Forms dense stands

Reproduces by seeds

Hybridizes

Self-compatible

Seeds dispersed by birds, other frugivorous animals, water and intentionally by people

Prolific seed production
Low Risk Traits:
Ornamental

Not reported to spread vegetatively

Reaches maturity in >4 years (12 years report for first flowering in cultivation)

Herbicides may provide effective control