Common name: Little fire ant, electric ant
Scientific name: Wasmannia auropunctata
Status in Hawaii: Spreading on Hawaii Island; detected and targeted for control/eradication on Kauai, Oahu, and Maui.
The little fire ant is a stinging ant often moved around in plant material. Lacking competition or predators in Hawaii, this ant can outcompete and take over. Since ants can live in trees, ants often rain down on people.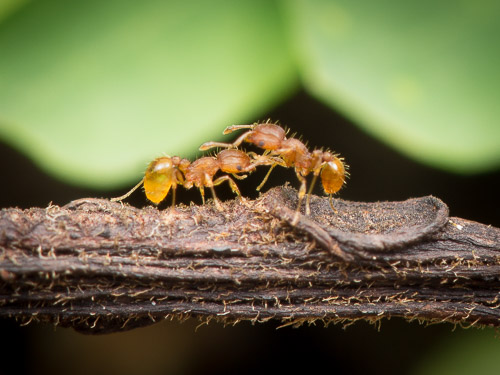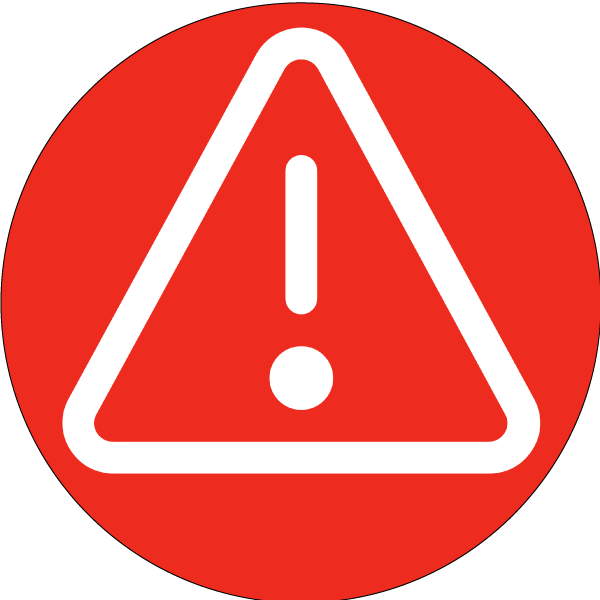 Impacts
Little fire ants (LFA) form cooperative supercolonies and outcompete other ant species.
LFA sting when trapped; stings can number in the hundreds leaving painful, itchy welts lasting up to a week.
Stings in animals' eyes can lead to clouding and blindness
Disrupt natural systems and cause declines in insect biodiversity.
LFA farm aphids and scale insects that promote disease and reduce plant health.
---
Identification
Tiny, 1/16th in (2mm) long, and uniformly orange, reddish-orange, or brownish-orange in color.
No visible nest or mound as a colony can live underneath moss in a tree or leaves on the ground.
Detected most often when people have been stung, generally on the neck or torso.
Domesticated animals with cloudy corneas can also indicate the presence of LFA.
Definitive identification requires a microscope.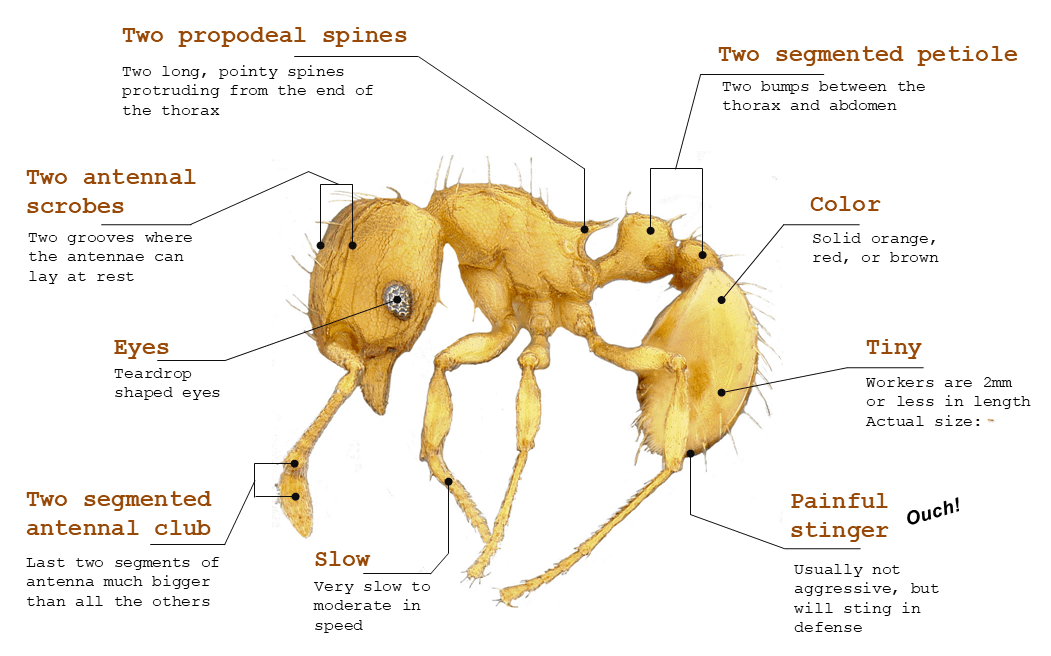 ---
Vectors/Commodities
Potted plants
Mulch or soil
Any materials stored outside
---
Distribution
Native Range: South America
Invaded regions: LFA has spread throughout the tropics reaching Papua New Guinea, Soloman Islands, New Caledonia, Tahiti, and most recently Guam and Hawaii.
In Hawaii, distribution and response vary by island; all efforts to contain and prevent further spread are encouraged.
---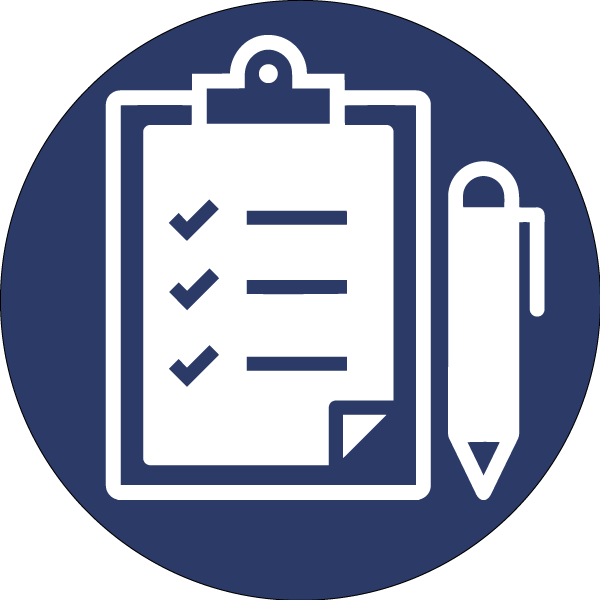 Best Management Practices
This species is in limited distribution in Hawaii. Prevention and early detection efforts protect Hawaii's nursery and agricultural industry and environment.
Consider sourcing options and the distribution of little fire ants when purchasing plants.
BOLO: Be on the lookout! Regularly inspect the nursery for indications of little fire ants. Quarantine and survey new plant material and material that has been stored outside before incorporating it into stock.

Chopsticks baited with a small smear of peanut butter may attract LFA after approximately 45-60 minutes. This is recommended for all new plant materials.

Conduct nursery-wide surveys every 3-6 months.

Visually inspecting plant material

Outside of Hawaii Island, report any suspect LFA to 643pest.org or by phone 643-PEST (7378). On Hawaii Island, contact the Hawaii Ant Lab for further instructions.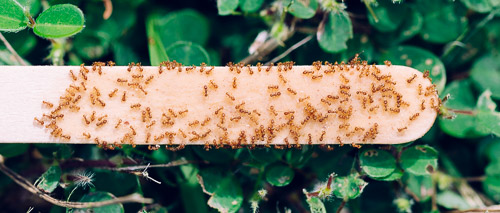 ---
PEST PREVENTION TRAINING
An advanced education program for those on the front lines protecting Hawaii from invasive species.
Contact your local Invasive Species Committee to schedule a training for your team. Learn more
This material was made possible, in part, by a Cooperative Agreement from the United States Department of Agriculture's Animal and Plant Health Inspection Service (APHIS). It may not necessarily express APHIS' views.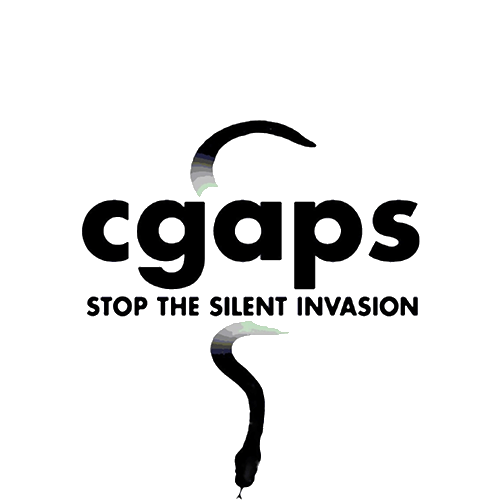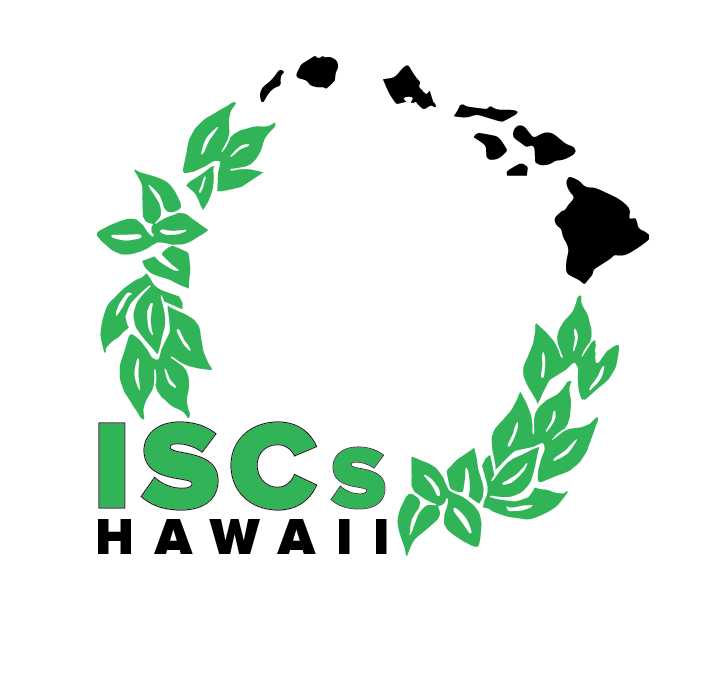 ---